Finished For Lasting Beauty
Quality starts with the finish and at Huttig we strive every day to be the best at everything we do. Our leading edge factory finish line is second to none and PrismaGuard is professionally applied in a controlled environment by skilled craftsmen. Our packaging is designed so the doors' doors arrive on the job site secure and ready to install. Have confidence that a Finish Line entry with PrismaGuard finish will exceed expectations every time.
Easy for You to Ensure Quality
With more than 35 years of experience distributing and pre-hanging Therma-Tru doors, Hammond Lumber Company and Huttig® brings you the most comprehensive offering of steel and fiberglass doors.
Adding even more value to these industry-preferred doors, we offer you lasting quality with the Huttig Finish Line™ Finishing System. Simply select a factory-finished Therma-Tru fiberglass door system, stained with Therma-Tru's proprietary stain system PrismaGuard.
Factory Finished & Ready to Install
You no longer have to do it yourself or find someone to finish your door system; now you can order the door you want with confidence, knowing it will come professionally finished and ready to install, saving you time and money. Every stained* door comes with a 10-year warranty on the finish, and a limited lifetime warranty on the complete door system. Huttig's durable finishing systems are the best way to ensure protection against scratches, color fading, and post-installation callbacks.
Lasting quality starts with the finish.
Visit any Hammond Lumber Company location to look through our millwork showroom and browse through factory finish color options with one of our helpful salespeople. Hammond Lumber offers free estimates and free delivery within striking distance of our stores.
Find a Hammond Lumber Company location near you:
Store Locator
View finishing options & details:
Product Catalog
Give your door a high-end appearance with PrismaGuardTM Paint.

1. It starts with the realistic wood grains or premium smooth surface of a Therma-Tru® door.
2. A base coat provides an even, consistent color across the surface of the door.
3. A durable topcoat enhances the color while protecting against scratches and color fading.
4. A second application of the topcoat provides added durability.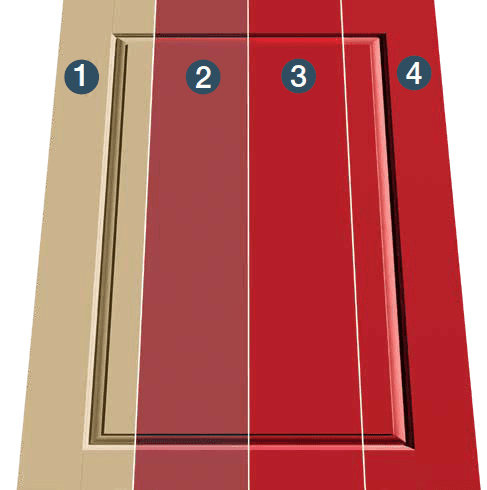 Simplified beauty. Resilient designs.
EnLiten flush-glazed designs create striking profiles that effortlessly combine indoor and outdoor living spaces, inviting in more natural light than ever. The possibilities are endless, giving you doors that perfectly fit your lifestyle.
Maximum Views.
Create an airy, open feeling in the home with larger daylight openings. EnLiten flush-glazed designs offer up to a 16% increase in visible glass area as compared to conventional lite frames.

Durable by design.
Double or triple-pane glass is built directly into the door with a high-performance dual adhesive weather seal. This reduces the potential for air and water infiltration, among other benefits.


Superior Sound Dampening
Better dampening of outside noise compared to a Lip-lite alternative.

11% More Energy-Efficient
The Low-E glass used in flush-glazed doors is 11% more energy efficient than 1/2″ Low-E glass in a Lip-lite frame.*

Withstands Winds Up to 167 mph
Door systems with flush-glazed glass are designed and tested to withstand wind forces up to 167 mph (DP-50).** (ASTM-E330)
Back to Interior, Exterior, and Garage Doors >>
---
Therma Tru Certified Training Program