The National Safety Council recognizes 7 Hammond lumber Company locations as Industry Leader's for 2022. The award symbolizes excellent safety performance within our industry. Branches recognized include;
Bar Harbor, ME
Belfast, ME
Blue Hill
Camden, ME
Damariscotta, ME
Farmington, ME
Portland, ME
The Industry Leader Awards are one component of the NSC Occupational Awards Program, which recognizes outstanding safety achievements of NSC members and represents the top 5% of member companies that have qualified for the NSC 2022 Occupational Excellence Achievement Award (based on 2021 calendar year data). Winners are also selected based on the North
American Industry Classification System (NAICS) code, lowest total incidence rate and employee work hours.
"It is truly an honor to recognize these 25 organizations for their commitment to advancing safety," said Ingrid Schoen, director of membership at the National Safety Council. "This year's winners exemplify what it means to protect employees from death and injury at work by making safety a priority. Congratulations on a job well done."
Industry Leader Award Criteria
Industry Leader Award represents the best self-reported performance
among 2-digit NAICS codes
Industry Leader Awards are presented only among 2-digit NAICS codes represented by five or more participating organizations.
Only National Safety Council Member organizations in good standing will be considered
Only organizations with O cases and O fatalities will be considered
NAICS codes represented by 20 or more participating organizations are subdivided by organization size:

1 million or more hours worked
Between 1 million and 100,000 hours worked
100,000 or less hours worked

Within the 2-digit NAlCS codes, winners will be distributed equally across the three size categories
Approximately 5% of participants within a 2-digit NAICS code will be
selected as industry leaders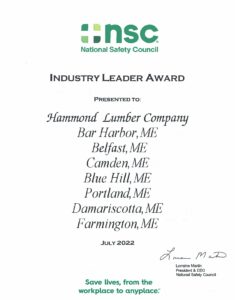 About the National Safety Council & Hammond Lumber Company
The National Safety Council is America's leading nonprofit safety advocate -and has been for more than 100 years. As a mission-based organization, we work to eliminate the leading causes of preventable death and injury, focusing our efforts on the workplace, roadway and impairment. We create a culture of safety to not only keep people safer at work, but also beyond the
workplace so they can live their fullest lives.
For more information on Hammond Lumber Company's commitment to safety, visit our page.