**Products and brands featured on this page may only be available at certain locations. Please contact your preferred location to confirm in-stock availability before making further arrangements.**
Come in or call our Hardscapes & Stone Design Center at our Bar Harbor Location
---
Maine Made Products | Local Quarries
Genest 
– Paving Stone & Walls
Casual elegance has never looked so good – or been so easy to achieve.
With Genest's superbly crafted finished concrete products, your next project is guaranteed to deliver on what matters most: beautiful results that reflect your unique style and vision. From outdoor living spaces, downtown sidewalks, high profile commercial projects, sustainable and energy efficient wall systems, paving and retaining walls, Genest makes it all possible.
---
Techo-Bloc 
– Concrete Paver & Masonry
From five employees in 1989, they have grown to more than five hundred. Today's Techo-Bloc Group comprises three production facilities in Canada, five new leading-edge plants in the USA, and six wholesale distribution centers located in Ontario, Ohio, North Carolina, Massachusetts, and Illinois. All Techo-Bloc facilities proudly perpetuate our commitment to creativity and excellence.
Design aficionados at heart, Techo-Bloc is known for elevating exterior design by creating landscape stones that push the boundaries of functionality, durability, and aesthetics. Our products span lifetimes and are engineered to endure the harshest weather. The most diverse collection of landscape stone styles, textures, and colors transform any backyard or front yard, into a spectacular setting.
---
Swenson Granite – 
New England Granite Steps, Platforms, Posts, and Edging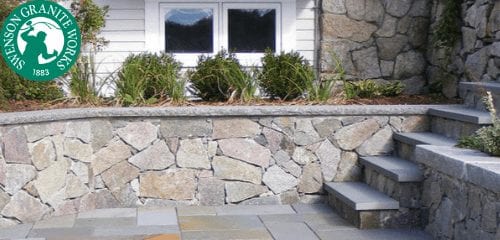 Whether we're crafting uniform products like curbing or designing an outdoor living space, we do it with precision, craftsmanship and a love for stone. From the moment we cut our granite from the quarry to the day we install it at your home, we've worked to ensure a quality product, an esteemed workforce, and a valued customer.
---