Since 1953
Hammond Lumber Company has had a proud history of staying close to its sources and close to the people and businesses its supports by sourcing quality pine and hemlock locally. We work hard to develop new equipment, processes, and services that keep us at the forefront of the building materials industry. While we carry a full line of forest products, we're particularly proud of our leadership position in Eastern White Pine. Its strength and versatility make it universally recognized as the pine of choice for construction and interior purposes.
Complete Sawmill Operation
Inside our mill, you'll find a de-barker, a chipper, two sawmills with band re-saw, a planer mill, kilns, and a bark processor. All of that equipment helps us to produce pine boards, paneling, bevel siding, log siding, decking, timber, exposed beams, and the machined pine logs that go into our Maine Pine Log Homes.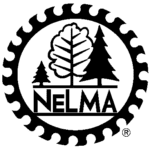 Here Safety Matters!
All in all, we currently saw more than 6,500,000 board feet each year. And we do it safely: Since 1985 we've had a Safety Committee that oversees our entire operation and meets monthly to identify and correct potential health and safety hazards. Our sawmill and planer mill employees have received numerous safety awards from the Northeastern Lumber Manufacturers Association (NELMA) Loss Control Committee over the years.
Our Sawmill Products

Pine & Hemlock Manufactured Wood Products
About 80% of our forest products end up in the pine bins at our retail stores. The rest is sold via wholesale distribution; Wholesale pine is bought and sold by Don Hammond.
Our products include:
Siding – Wood Log siding, Wavy or live edge siding, Shiplap, Clapboard, Board and Batten, Novelty, and V-Match, Channel Rustic, Bevel, and our patented Belgrade siding.
Decking – V-Match Tongue & Groove
Sheathing – Superboards, supersheathing, and industrial grade sheathing.
Paneling – Edge & Center Bead, Pickwic, and V-Match.
Hemlock beams – Can be custom quoted and milled (Able to mill 12″ x 12″ up to 40′). Some sizes are in stock.
Rough Lumber – Can be custom quoted and milled. Some sizes are in stock.
Flooring – New England Style Wide Plank Flooring (Comes in many widths including; 1×14, 1×15, 1×16, 1×17 and 1×18)
Rounded White Pine Planed Logs
Add a distinct look to your next project! We offer our rounded white pine planed logs in 5 different sizes.
View an Example
Discounted Pine & Hemlock Sale List
Please talk with a salesperson about discounted packs of pine & hemlock, sold as approximately 1000 board feet.
Sale List
Custom Milling Order – We can do that!
Just ask, we can give you a custom quote on hemlock beams, rough lumber and more!
Bi-products
As part of our commitment to responsible and sustainable production practices, we utilize the entire log and what doesn't go out the door as a board is converted into processed bi-product.
We offer a variety of bi-products including:
Sawdust & Shavings (Full truckload deliveries, the product can be delivered with either blower up to 12 cord or live bottom truck up to 8.5 cord)
Erosion Control Mix
Wood Ends
Short Boards
Bark Mulch
Free delivery up to 10 miles and $3.00 per mile after.
Interested in purchasing some of these products? Please email Percy Carey for more information or give him a call at 207-495-1266.
Learn More About Hammond Lumbers History