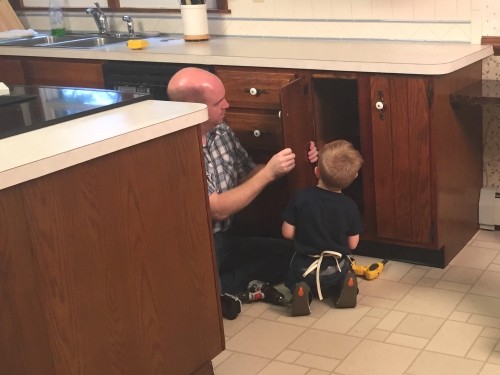 Sometimes, it's obvious that a remodel is in order, while, in other cases, you have to look closely to find your sign. Either way, it's up to pros like you to point out flaws and present ways in which to fix them.
Of course, everyone can use a little help from time to time, and that's where we come in. Here are five signs to look for that'll tell you and your client(s) that it's time to get to work on a new remodeling project.
1. An Unfinished Attic
Transforming an unfinished attic into living space is one of the most valuable investments a homeowner can make in their property. And, if you have a client who's itching for more room and more space-saving options, this may just be your chance to pitch the attic remodel.
At the very least, an unfinished attic is likely in need of bulked-up insulation. Much of a home's heat will escape through a poorly insulated roof, so it would be a great idea to pitch a fresh layer of insulation, at the very least. Customers who live in warmer climates could benefit from an attic fan, which removes heat from the home on the hottest days of the year.
2. Vinyl Kitchen Floors
Once upon a time, vinyl floors were all the rage. They were cost-effective, simple to install and easy to clean. Unfortunately, those days are gone — today's homeowners seek flooring that's more resilient, long-lasting and natural. Wood, bamboo, concrete and tiles reign supreme.
So, if you have a customer with vinyl flooring in his or her kitchen, it might be time for a remodel. And, chances are, if someone's been living with vinyl flooring, there are other elements to the kitchen's design that need updating, too.
Remind clients who might be scared to see the project's price tag that a kitchen remodel doesn't have to be a complete gut job. Simply re-facing the cabinets, updating a few appliances, resurfacing the countertops and, of course, replacing the floors will be enough to make the whole place feel super modern.
3. A Visibly Aged Door or Windows
Sometimes, an old door can add a bit of rustic flair to a home, especially a historical or otherwise old-school build. But not all old doors come with charm, and one visibly in disrepair is the perfect candidate for a small remodeling project. It's easy to spot the difference between the two: an aged door will have cracks, a dysfunctional peephole, fogged-up windows… the list goes on.
As an added piece of evidence to your new-door pitch, you can also inform a customer that an old door, like an unfinished attic, lets the heat right out of your home. This costs money on the electrical bill and, of course, leaves families feeling a chill in winter. That might just be incentive enough to swap the old for the new.
Old windows are the same and are a great sign that your handiwork is needed. Replacing old windows with newer, thicker models means — once again — that you'll save your client big on heating and cooling costs by blocking outdoor air from sneaking through the panes.
4. Vanity Bulbs in the Bathroom
Some homeowners might think their vanity light fixture is reminiscent of old Hollywood, its giant light bulbs beaming down over the mirror. But this type of light fixture is very much out of style and could be a sign that the rest of the bathroom is in need of an update, too.
Start by pitching the fixture upgrade, though, and make sure it includes all of the bathroom's accessories. One of the easiest ways to refresh bathroom décor on a budget is to update and match all of the room's fixtures. From there, new tiles and countertops, or even a new tub, toilet, and shower may be in order. But use the outdated light fixture as a clue that the rest of the room might be in need of a remodel.
5. Missing Roof Shingles
Looking to the home's exterior, you can find plenty of potential remodeling projects, too. Start with the roof — and do so just after all of the winter snow clears from its surface. Examine the structure for missing or damaged shingles. Then, repair and replace what's been destroyed by Mother Nature. Not only will the home look more uniform, but it'll be more energy efficient without gaping holes in its exterior.
Follow Your Instinct
The above are just five signs that a remodeling job is in order. In most cases, though, you'll have to follow your instinct when you think you see a sign of a more significant problem. So, don't be shy: investigate, diagnose the problem and come up with a remodeling solution that's perfect for you and your client. You'll both be happy with the result — and even happier that you followed the signs in the first place.
About the Author
Kacey Bradley is the lifestyle and travel blogger for The Drifter Collective, an eclectic lifestyle blog that expresses various forms of style through the influence of culture and the world around us. Kacey graduated with a degree in Communications while working for a lifestyle magazine. She has been able to fully embrace herself with the knowledge of nature, the power of exploring other locations and cultures, all while portraying her love for the world around her through her visually pleasing, culturally embracing and inspiring posts. Along with writing for her blog, she frequently writes for sites like US Travel News, Thought Catalog, Style Me Pretty, Tripping.com and more!
Follow Kacey on Twitter and subscribe to her blog to keep up with her travels and inspiring posts!