As the days get shorter and the trees start to turn it seems like it's time to pack away the grill and lock the patio door until next summer. If you love spending time outdoors fret not because there are still a few snowless months that your family and friends can enjoy al fresco cooking and dining! Just because the leaves start to drop doesn't mean you're stuck inside and now is the perfect to time to take your outdoor cooking to the next level by creating the ultimate outdoor kitchen.
Cooking & Prep Station
Just like your inside kitchen revolves around the stove and the sink your outdoor kitchen should also have a cooking and washing station. Including a sink in your outdoor kitchen isn't necessary but is helpful to have a small prep sink. As for a cooking station, the sky's the limit, there are gas, charcoal, and wood burning grills for all you grill masters out there. If you want something a little more unique incorporate a smoker or pizza oven but keep in mind they will require more space than a grill. No matter which one you choose a separate small cooktop or side burner is always helpful for heating sauces or boiling water. Don't forget sinks and grills should never be placed at the end of your countertop as you'll always want space on either side for food, plates, and other essentials.
Cabinets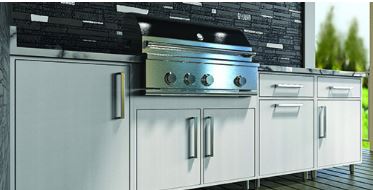 The cabinets you choose for your outdoor kitchen will not only decide the overall layout but also the functionality and flow. A great choice for cabinets that will withstand the elements would be Wolf Endurance Outdoor Cabinetry. They are made of lightweight aluminum and comes fully assembled so they are ready to be installed whenever. Powder coated with an all-weather finish that withstands the elements and all storage space is sealed to keep rain and moisture out. One of the biggest mistakes when designing an outdoor kitchen is not enough storage space that in turn leads to limited counter space. So, make sure you have plenty of drawers, cabinets, and landing space on either side of appliances to hold all the essentials and keep things clutter-free.
Counter
One of the most important elements of the kitchen is the counter and with the added challenge of being outside this may seem like a daunting task. To keep it simple pick a countertop made of concrete, stainless steel, stone, or porcelain tile. Go with porcelain over ceramic tiles especially in high UV areas as it resists discoloration and fading better. Also, use a darker grout color if using tile as this will be subject to discoloration as well. For a more in-depth look at countertops read our latest post.
Seating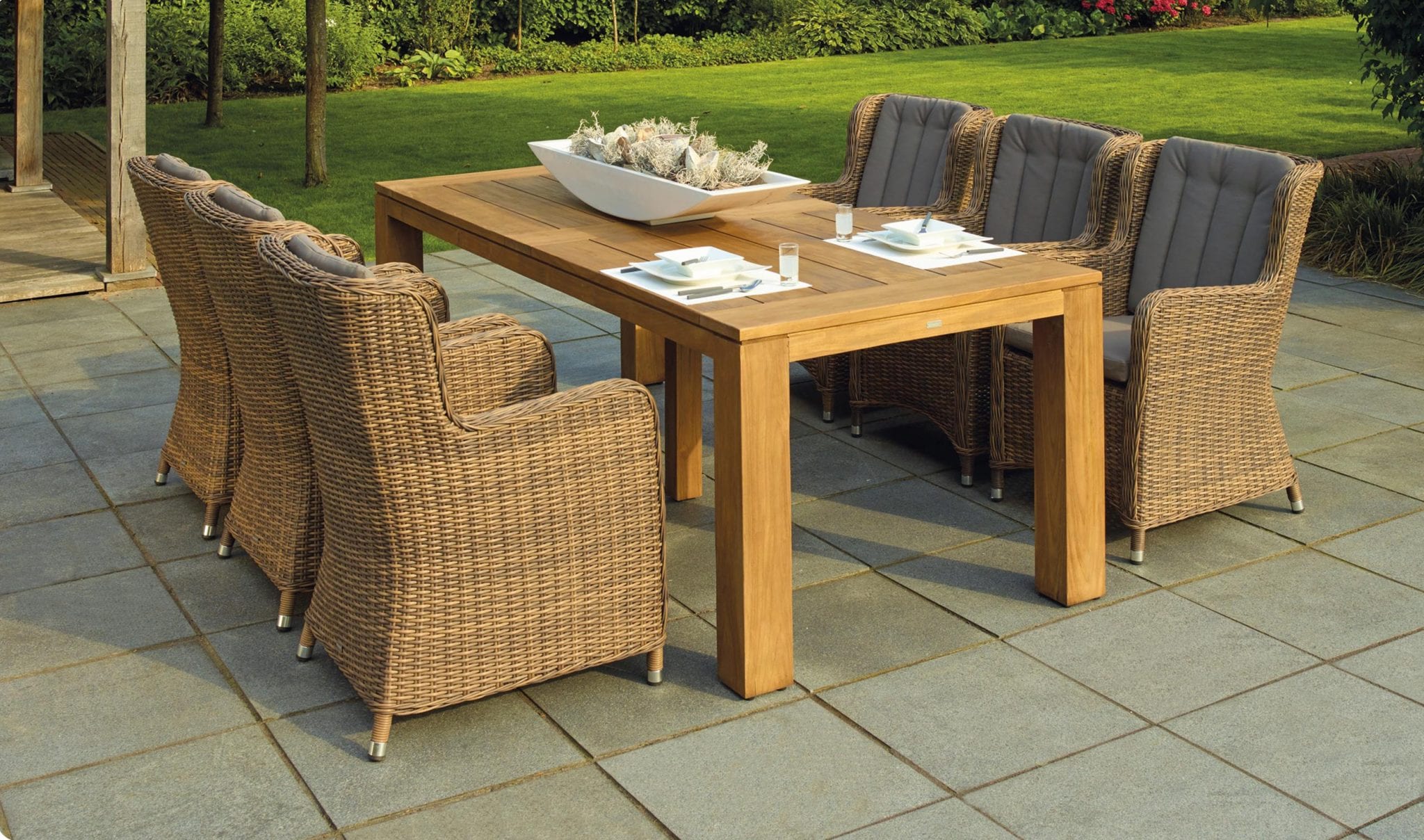 Seating is always tricky because you don't want to leave the cook out of the conversation but also don't want everyone to crowd the kitchen. Outdoor kitchens are usually a lot smaller than normal kitchens so the fewer people the better. You can solve this issue by adding bar seating near the cooking station, this way your guests can enjoy a drink and still have a conversation without getting in the way. Chances are that you'll want a more formal table setting for sit down dinners so an outside dining table should be in a central location close to the kitchen for ease of serving.
Appliances
Now that you have all the base elements of your kitchen decided it's time to start thinking about appliances that you need or want. With space being limited in most outdoor kitchens keep in mind what size appliances you really need. Mini versions of many appliances such as blenders and food processors are available and work just as well without taking up a lot of space. Many outdoor kitchens include a mini fridge not only are they great for keep drinkings on hand but also for storing condiments and side dishes. If you like to entertain think about installing an ice maker in your kitchen, some models are small enough to fit on the countertop while larger models can be installed in between cabinets sections. Add-ons like warming drawers are great for all seasons they keep food and hot cocoa warm but can also be used for plates and silverware!
With all these decisions to be made it's understandable you're probably a little overwhelmed. Let the kitchen experts at Hammond Lumber Company help! Make an appointment and get all your questions answered so you can get your project started!