Hammond Lumber Company hosted 2 CAMO Screw Off! qualifying events, the first was at our Portland location on 9/20 and the second was at our Brunswick Location 9/27. Both dates, Hammond Lumber Company was hosting a Contractor Lunch & Learn BBQ, which helped drive strong attendance/participation in the CAMO qualifying event!
Both locations combined generated over 50 participants, most had never used CAMO products before and got hands-on product training in the process. Our Portland qualifier is Scott Walker Jr, with a time of 46 seconds and our Brunswick qualifier is Robert S with 48.87 seconds. Both received a $50 Hammond Lumber Company Gift Card and will advance for a chance to win a 2017 Harley-Davidson® Roadster™ motorcycle and other cash prizes at the CAMO® Screw Off!™ finals being held at the NRLA LBM Expo in Providence, Rhode Island in February 2018!
Scott Walker, congratulated by Portland store manager Marc Ducharme
Robert S. Qualified with 48.87 seconds!
Employees from the two stores had their own in-house competition, competing for best qualifying time to win a $50 Visa Gift Card and a CAMO tool. Bill Krause (BRU) set the winning time of 53.8 seconds, beating the time of Jay Ossenfort (POR) with 1:06 seconds! Rumor has it Bill used his gift card to buy lunch for his team in Brunswick!
Jay Ossenfort (POR-Sales)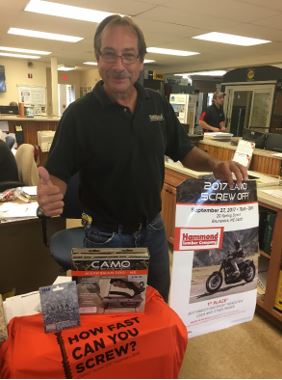 Bill Krause (BRU-Sales)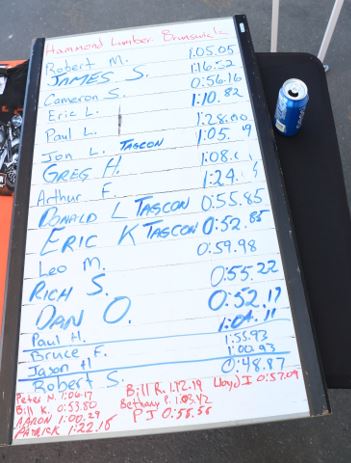 Read more about the CAMO® Screw Off!™ Competition here.