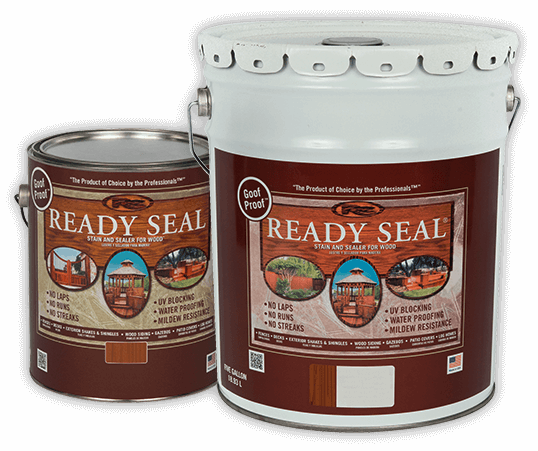 Ready Seal® Stain and Sealer for Wood is an oil-based, semitransparent stain and sealer in one. 

Its unique blend of oil, quality resins and finely ground pigments that penetrate deeply to protect and preserve the wood from the elements.
Why Choose Ready Seal® Stain?
Ready Seal is a professional grade oil based semi-transparent stain and sealer in one that will protect, beautify and prolong the life of all your wood projects. No laps, runs or streaks and no back brushing for perfect results, every time! Available in one and five-gallon cans.
Ready Seal may be used on:
Decks
Wood Siding
Exterior Shakes & Shingles
Log Homes
Fences
Gazebos
Arbors
Patio Covers
Find a Hammond Lumber location near you:
Store Locator
The Ready Seal® Advantage
No Laps, Runs or Streaks

Easy Maintenance – No sanding or stripping required for reapplication

No Cracking, Chipping, Flaking or Peeling

No Back Brushing Required

Can withstand rain within minutes of application

Contains no linseed or vegetable oils that promote algae and fungus growth in wood

Low VOC (Compliant in all 50 states)
More About The Ready Seal Advantage
Ready Seal® Colors
Ready Seal is available in 7 pigmented colors. A clear blend is also available.

Technical Data Sheet
Request More Information about Ready Seal
Looking to start a project with Ready Seal Stain? Let us know what you need to get started!
Back to Paints & Stain Page