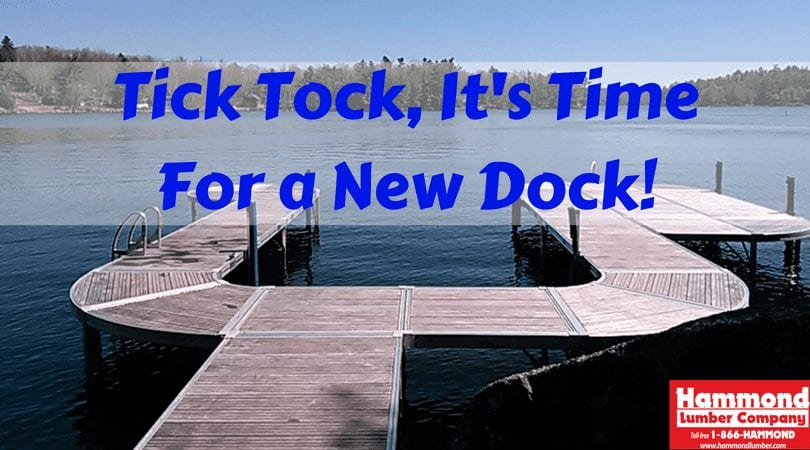 Buying a dock for your home or camp is an important decision and it can be a challenge finding the right system for your unique shoreline and lifestyle needs. With so many factors to consider like shore bottom, water levels, maintenance, and style it can be hard to know where to start.
Well, life by the water is always better especially when you have a ShoreMaster dock system. For nearly 3 decades Hammond Lumber Company has worked with ShoreMaster to provide quality dock systems and waterfront accessories to our customers. If you are looking to transform your waterfront and maximize use then Shoremaster docks and accessories are the answer. At Hammond Lumber Company we offer free shoreline evaluations to assure you get the right system to fit your property.
To receive a free shoreline assessment and estimate for a Shoremaster system visit our website and fill out our ShoreMaster information request!
Why Should You Choose a ShoreMaster Dock System?
With many different dock systems available you may be wondering why should I choose ShoreMaster? ShoreMaster components are built for maximum stability and strength to ensure the longevity of your system. Dock frames, ladders, and dock legs are made from high-quality aluminum providing you with a maintenance free experience that is solid yet lightweight. The 5 sided dock leg design creates 3 points of contact ensuring the safety and stability of your dock.
All decking panels are removable making it easier to install and remove your dock and upgrade when you're ready. ShoreMaster offers 3 different decking materials wood, plastic, and aluminum and 8 color options, no matter your style we have the decking to match! If you love the feel of natural wood under your feet the Premium Cedar or Hardwood IPE decking is the choice for you. Don't forget natural wood requires some maintenance like annual cleanings and staining every 3-4 years. If you love the look of natural wood but don't want to hassle with refinishing the wood grain aluminum is also available. The tan, white, or plain aluminum decking is the ultimate maintenance free option for you dock system and features a treated surface that stays cool even on the hottest of summer days. ShoreMaster Glacier and Vertex plastic decking is another great low maintenance option. Glacier offers a fast drying decking that will not collect debris and allows sunlight and water to flow through keeping your shoreline healthy. The Vertex decking is exclusive to ShoreMaster and is modeled after real flagstone pavers right down to the texture of the stone!
Hammond Lumber Company wants you and your family to enjoy your ShoreMaster dock for as long as possible. When you buy from Hammond you can rest easy knowing your ShoreMaster dock has the best lifetime warranty in the waterfront equipment industry.
If you are ready to start enjoying your new ShoreMaster system then start today by speaking with dock experts at your local Hammond Lumber Company store or check out our new 2018 ShoreMaster catalog.