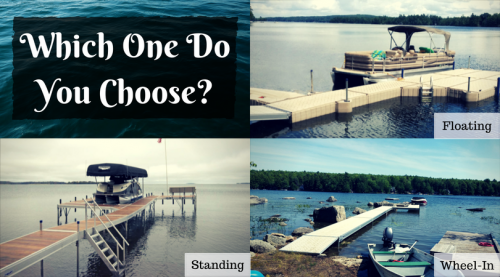 Now that you have decided you want a ShoreMaster system which one do you choose to fit your unique waterfront and lifestyle needs? Dock experts at Hammond Lumber Company are here to help! Hammond offers free shoreline evaluations to help you decide what system will work best with your property and delivery is available from any of our 13 retail locations. We can also arrange for professional installation within 48 hours. We want you to love every detail of your dock so let's go through ShoreMaster's 3 different dock types and how they can fit your lifestyle and waterfront needs. Take a look at the new ShoreMaster Catalog for more information!
Standing Docks
Standing docks work well on firm shore bottoms in shallow to moderate water depths. The aluminum welded 5 sided leg design and 4-inch side rails ensure stability and strength especially in high wave areas. ShoreMaster's standing docks are extremely configurable to match any layout you desire. Not a fan of straight lines and sharp corners? ShoreMaster offers exclusive 45 and 90-degree dock sections to round out your dock system without sacrificing functionality.
Wheel-In Docks
Wheel-In docks make installation and removal hassle-free no matter the size of your system.  Adjustable screw legs offer 4 different height options and allow for easy maneuvering around obstacles like rocks or logs. ShoreMaster's 24-inch Poly Tires have rigid sidewalls to prevent deflation and specialized pigments to prevent cracking and disintegration due to high UV exposure. Poly Tires are self-filling and draining to reduce weight when wheeling in and out each year.
Floating Docks
Floating docks can be placed in any location a standing or wheel-in dock can plus more! They are great for waterfronts with soft or extremely muddy bottoms. If you have an uneven shoreline, fluctuating water levels or deep water a floating dock is your answer. You'll never have to adjust your dock height to fluctuating water levels again! Floating docks are a great option if you have a boat or jet ski moving with the water level allowing you to get on or off your watercraft with ease.
Low Maintenance Living
All decking materials allow water to drain preventing mold and fungus growth that can be hard to clean. The slip-resistant aluminum or plastic decking ensures everyone has a fun and safe time. With 3 different materials and 11 color options, your deck is sure to fit with your personal style.
If you're still not sure which style would work best for you come in and test them for yourself! Test the lightweight aluminum frame that provides superior strength and stability and see our decking options when you come into Hammond Lumber. If you need more information about ShoreMaster look at the new Catalog!