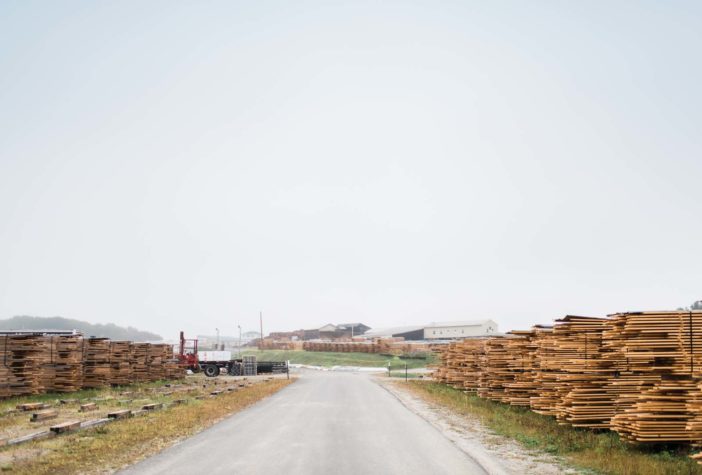 In 1953 Clifton "Skip" Hammond was a bootstrapping entrepreneur who spent fair-weather days cutting down pine trees and foul-weather days milling the logs into lumber at a diesel-powered sawmill on Route 27 in Belgrade. He initially owned the sawmill with a partner, but with 50 dollars he borrowed from his wife, Verna, Hammond bought his partner out and hired two employees. Hammond Lumber Company was launched.
Sixty-four years later, I'm sitting at one end of a vast, granite-topped conference table on the second floor of Hammond Lumber Company's modern headquarters, next door to the sawmill. "We've made a lot of efficiency changes over the years, but it's still the same mill," says sales manager and company spokesperson Fred Perkins. Across the room, a Palladian window offers a broad view of Messalonskee Lake, and on the wall to my right are three framed portraits of Skip Hammond, Verna Hammond, and their son, Don Hammond. "Mike's has yet to be painted," says Perkins, referring to Don's son, Mike Hammond, who was named president and CEO of the company in March. The family-owned company is proud of its legacy, which encompasses more than the people in the portraits. As Mike stated in the official announcement of his new leadership role: "Ultimately, our success as a company isn't about one person, it is about our hard-working employees who provide great personalized service to our customers."
The respect goes both ways, says Perkins, who joined the company in 1991, starting in the lumberyard and customer service. One of 12 siblings who grew up on a dairy farm five miles from his current office, he credits his upbringing for instilling the values of "hard work and team work," that have served him in his career. Perkins got his commercial truck driver's license when he was told it would result in a 50-cent-per-hour raise and drove trucks from Belgrade to Hammond Lumber Company's third satellite location in Auburn. He worked in receiving and as a dispatcher, eventually becoming assistant manager at the Fairfield store, the company's sixth location. "We have a strong belief of hiring from within, promoting from within," he says. "We have examples throughout the company of managers who have worked in the sawmill, as truck drivers, and as yard employees." One day in 1999, Perkins got a call from Don Hammond offering him the sales manager position for the company. "He said, 'I'm sending you something. I want you to be the only one who reads it.' It was a job description for sales manager." The new job brought him back to Belgrade, where he lives with his wife, Amy, who works for MaineGeneral Health. (The couple has two sons, one in high school and one in college.)
During Hammond Lumber Company's early days, it supplied the lumber that built many of the Belgrade Lakes region's summer cottages and camps, says Perkins. "Belgrade has been a vacation destination since the early 1900s. In the summertime, the population more than doubles." It was Don Hammond who initially suggested expanding the company into retail, Perkins explains. "We joke that, when they were selling wood, the customers would say, 'Why aren't you selling nails? If you're going to sell nails, why don't you sell hammers?'" The first retail store opened in the early 1970s in a vacant granary on the same property as the sawmill. "It was poorly insulated and heated with a woodstove—I don't even think there was any plumbing in there," he says. The company now operates 13 retail locations. "Each of the first four acquisitions came about because the existing competitor contacted Don and asked him if he would have any interest in buying them out," says Perkins. "We take a lot of pride in being respected by our competition for the way we treat both our customers and our employees."
Following the addition of retail, the next company development was drafting, prompted by one of Don's first salespeople, who would use pencil and paper to draw up customers' designs. "Hammond Lumber was one of the first lumberyards that would provide home drafting," Perkins says. "The feeling was that, if we can get in on the ground floor helping the customer design their dream home, then we can remain in the process throughout." The company now has a large team of designers, a separate division of kitchen designers, and two employees who handle engineering. Having them on staff is one example of Hammond Lumber Company's commitment to customer service. Another is offering a wide range of products. "Whether it's cabinetry, roofing materials, decking, or siding brands, we like to have what the customers want," he says. Where some companies might specialize in just one, Hammond carries all three major window brands— Marvin, Pella, and Andersen—and 15 or 16 lines of kitchen cabinetry. "Today's customers have high expectations," Perkins says. "The days when we were all happy with a splitlevel ranch with oak kitchen cabinets, a steel front door with oval glass, and a bow window—those were simpler times. It was okay to match and have the same thing as your neighbor; it's not okay anymore." Certain products are location specific. A few stores, for example, are what Perkins calls "hardware heavy," while the Portland location doesn't sell paint because there are so many paint stores in the area.
From the beginning, Hammond Lumber Company has offered free delivery, a point of pride for the company. "It's been a passion of the Hammonds to provide excellent customer service, and they believe it begins with delivery," says Perkins. The fleet ranges from pickups to boom trucks and delivers to wholesale and retail customers within an hour or two from one of the company's locations. "We have a dispatcher in each branch, and they work together. If we don't have a product in one branch, we'll be able to fill it quickly from another branch," he says.
Leaving the conference room, Perkins gives me a tour of the store and offices, where it's clear from meeting other company employees that this is a place where people are happy to come to work. That comes from the top, says Perkins, adding that father and son have "mutual respect for opinions and perspective." He doesn't see himself working anywhere else. "It's really hard to beat," he says. "I enjoy a problem because I know there's a solution—we just have to find it."
Hammond Lumber Company sales manager Fred Perkins surrounded by the company's primary product—pine boards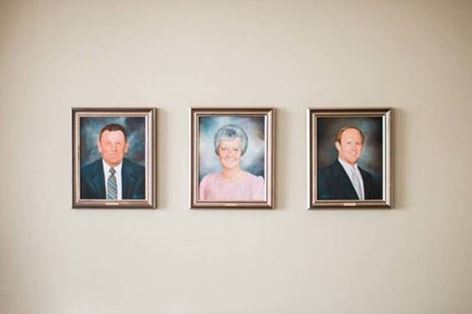 Three generations of Hammonds, from left: company founder Skip Hammond, his wife, Verna, and their son Don, the former president and CEO who now serves as vice president.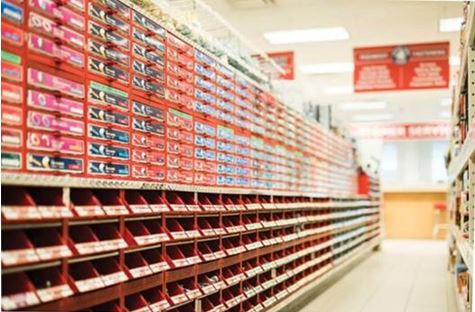 A hardware aisle in the Belgrade retail store, which opened in 1967 and was renovated and expanded in 2006.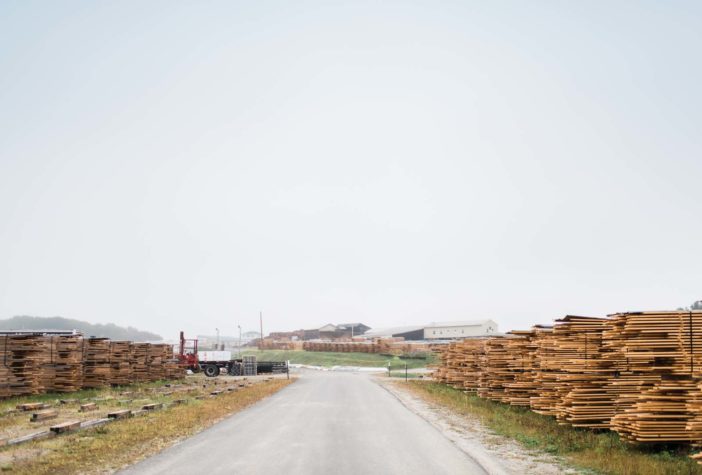 Hammond's headquarters, including its sawmill and the first of 13 retail locations, occupies a 63-acre piece of property along Route 27 in Belgrade.
Original article from Maine Home + Design. To read, click here.
November, 2017 | By: Susan Axelrod | Photography: Christina Wnek