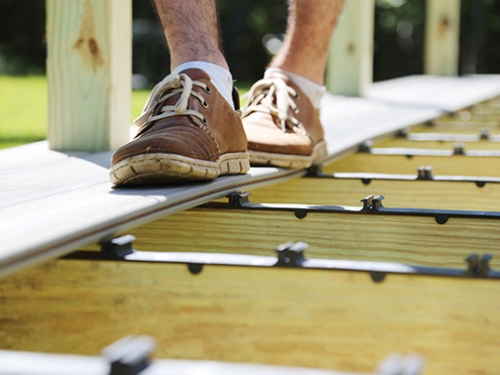 Whether for barbecues, sitting outdoors and reading a good book, or social gatherings, a deck is a great addition to any home.
After a long, treacherous winter, Mainers are anxious to spend time outdoors. One of the projects that homeowners may want to tackle is building a new deck on their home. Whether for barbecues, sitting outdoors and reading a good book, or social gatherings, a deck is a great addition to any home.
Fred Perkins, sales manager at Hammond Lumber Company said recently that a new product marketed by the Biddeford Maine-based company DuraLife® makes building a deck easier for both homeowners and contractors. Step-Clip™, according to the DuraLife ® website, is "a patent-pending proprietary, easy-to-install hidden fastening system."
The website states that the system features 1 5/8-inch wide and 23-inch long polypropylene interlocking strips that accommodate four deck boards. To install, the tabs on the Step-Clip™ strips are aligned to the joist and then secured with a roofing nail gun or hammer. No screws are needed. Then the boards are snapped into the clip either by using a person's body weight while walking across the boards or with a non-marring rubber mallet, creating a seamless connection.
DuraLife® claims that during the installation process, moving boards and making changes to the pattern requires less effort on the part of homeowners when Step-Clip™ is used. That cuts installation time in half for contractors, which saves labor costs as well. Another product that Perkins recommends is the Fastenmaster Cortex® Hidden Fastening System which hides fasteners in composite, capstock, and PVC decking boards. More information regarding this system can be found on the website fastenmaster.com/cortex-hidden-fastening-system-decking.html.
Perkins said that Hammond Lumber also sells deck-building products including Trex, Timbertech, Azek, and Zuri. The business also offers a wide selection of wood choices including cedar, pressure-treated, and tropical hardwood. Perkins said that Hammond Lumber tries to accommodate their customers by offering many choices in styles, brands, installation methods, and prices.
When selecting railings for a deck, a purchaser at Hammond Lumber said the selection of different types of materials used for railings depends on the customer's budget and the look they want to achieve. The least expensive material would be pressure-treated wood. Next, in quality and price, he said, is vinyl, some of which comes with an aluminum core in white, tan and light brown. Glass panels are also available and are easy to install. The next step up from vinyl would be a composite cap which is usually available in lots of color options that match the manufacturer's deck colors, as well as white and black. Glass panel options are also available. These products he said are usually harder to install but some have balusters that slide into pre-routed holes that make them just as easy as PVC railings. According to Hammond Lumber's purchaser, another higher-end choice for railings is INTEX with an aluminum core which is available in white only. The next step up from that is aluminum which is typically limited to colors such as black, white, and bronze. Cable railings would be the top of the line as far as price.
"Cable Rails are becoming more popular," he said.  "They give you the best visibility without having to clean glass panels.  So if you have a great view off your deck, this is a great option but because they are made of stainless steel they can be expensive."
To read the original article, please click here.